NYC Movers | Brooklyn Movers
Let Us Know About Your Move
Band With a Van
Did you just purchase a couch, dresser, or desk on craigslist? Looking to avoid the high delivery costs of Ikea? Is it time to empty that storage unit? Or maybe moving your East Village studio to a one-bedroom in Williamsburg? Elevator or sixth floor walk-up, we make your moves affordable!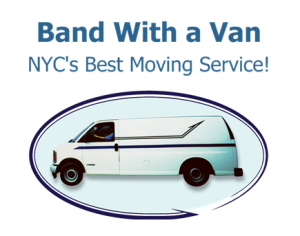 History
Established in 2007
The name really says it all.  Starting in the spring of '07, our band decided to make use of our "touring van" to create the perfect side business. Years of hauling and handling expensive and fragile musical equipment  was inadvertently training us to become expert movers.
Musicians. Not always the people who come to mind when you think of work ethic, right?  Usually.  We aren't, typical. We know how you value your belongings. We know you don't want to spend extreme amounts of money. Most of all, we know how shady and confusing the NYC "Man With A Van" businesses can be.
Give us a call. Any questions you have will be answered clearly and concisley. No hidden charges. We promise, you'll know exactly what our service entails, and you will always get an estimate.
Today we own three vans, have a long list of repeat clients, and have a big list a references. Call, anytime, to talk about your move.
Meet the Business Owner: Rob P.
Who would have thought? A singer-guitarist, son of a lawyer and teacher, would take a friends suggestion and start a moving business. I suppose I love it because it is a very NYC specific business. I know the people we move. I have, and still do, search craigslist for the best deals. I'm not doing this to make a million dollars, I just like being my own boss. Also, doing a few five-floor walk-ups per week eliminates the need for a gym membership!